Gabrielle doesn't eat meat, but that is just the tip of the iceberg in how she shows her love for helping animals. This matriarch is a proud and loving mama to four fur babies! Read on to see how Gabrielle went from dog-desperate to helping hounds, one adoption at a time.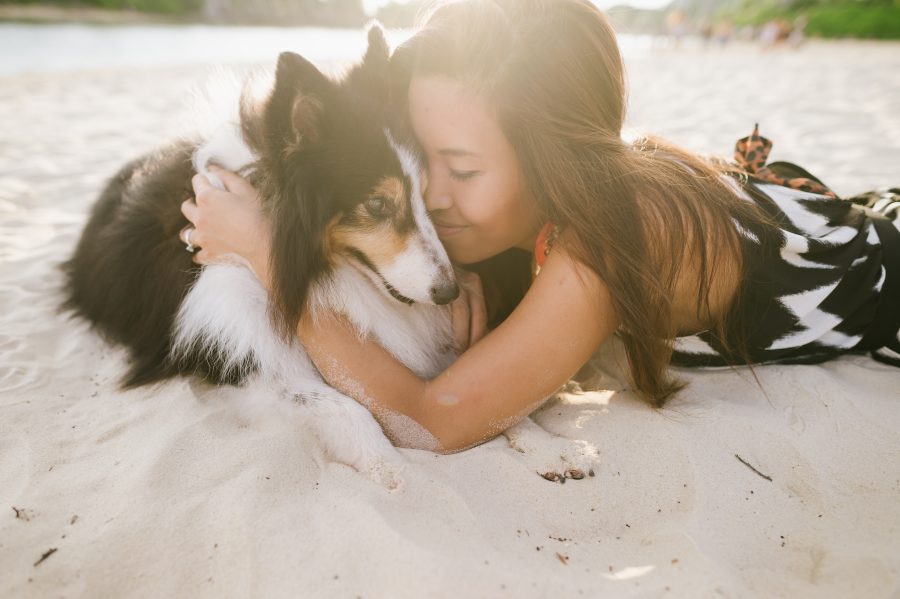 Hi Gabrielle! You have four dogs now, but what was your first pet?
I used to beg for a puppy as a young child - it was every birthday and Christmas wish. Dad felt that I wasn't ready to uphold the responsibility of a pet, and wasn't keen on their 4-digit price tags. He humoured me by taking me to pet shops, and one day to SPCA. My heart broke seeing lost and abandoned animals, despondent in their kennels. A shelter dog adoption would have been a reduced price tag, but Dad was adamant about me not being ready. 
One day I found out a neighbour's dog, Shuji, was set to be euthanised. My neighbour couldn't care for her any longer, and couldn't find her a suitable home... but he knew how well the dog responded to me, and in the desperation of this case, Dad finally made peace with the idea of having a dog. So in an effort prevent Shuji from being put down, I finally got my first dog!
Did you think of it as finally getting a dog, or a first step toward a life of animal welfare work? 
I knew what I was getting myself into. It lead to two years volunteering with Oscar's Law in Melbourne, investigating animal cruelty in commercial breeding facilities. When I migrated back to Singapore in 2012, I looked after dogs at Voice For Animal's adoption centre on a weekly basis for two years. I have since adopted 3 dogs from VFA, and currently provide home-based care for special needs dogs.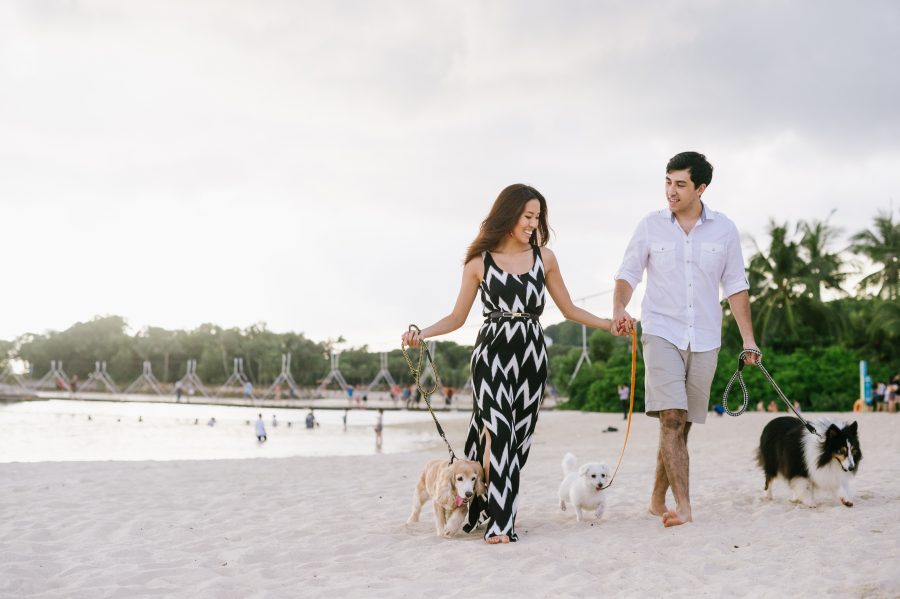 Why should somebody adopt a senior or sickly dog, when the norm is to purchase healthy, bouncy puppy?
The dog's journey to recovery very fulfilling - you see their resilience as they extend unconditional love to you, despite having suffered at the hands of humans. And dogs are never too old to be trained! 
On top of that, I refuse to contribute to the demand for commercial breeding when there are so many dogs who are in need of a second chance. When you adopt a dog, you actually save two lives - the one of the dog you bring home, and the dog that gets to be rescued by the shelter in its place. My hope is that in this upcoming holiday season, people consider the less fortunate!
How did you decide to take on your first foster case?
Due to hereditary birth defects, Maddie was born without a lower jaw. This made snatching for food very challenging in a communal feeding environment in the breeding facility. She was rescued by the founder of VFA, Derrick Tan, in a severe state of emaciation coupled with skin infections stemming from her allergies. 
I tended to her at the shelter, and agreed to foster her back to health over a period of 6 months until she was well enough to join in at the adoption drives. But we fell in love with Maddie and could not bear to imagine our family without her, so we adopted her instead! Maddie endured a long road to recovery, and still requires a special diet and daily medication for her medical condition.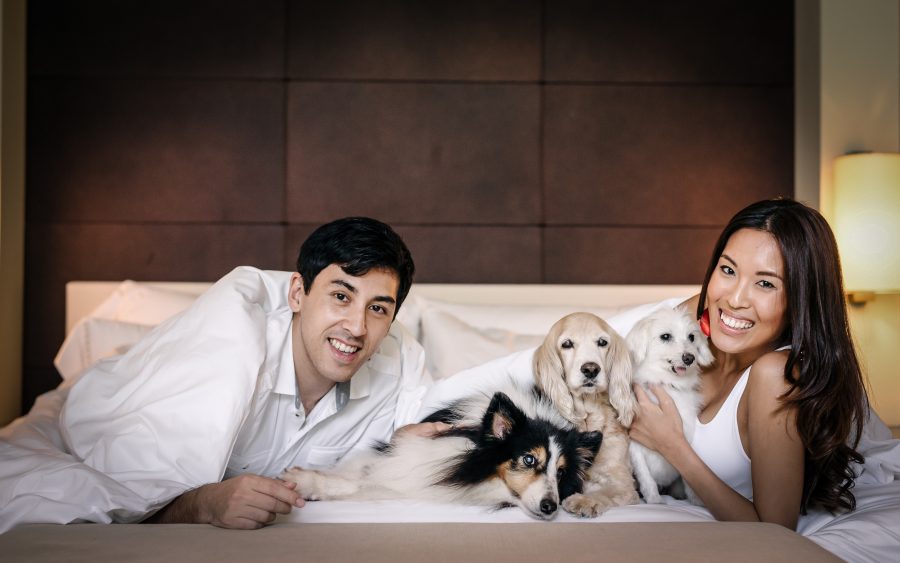 Love certainly takes work... what is it like being a fur-mom? 
I have four special needs dogs at home at the moment, so caring for them is a full-time job in itself. Thankfully, my husband Julio shares the load in caring for them. We're really hands-on parents, we do everything from feeding to grooming by ourselves. We've gotten used to referring to them as our 'kids' and have full-length conversations with them, so we tend to get confused looks every now and then! But I do feel like an actual mom - I change diapers, discipline the kids when they're snatching toys or food, bring them to playgroups with their friends, make sure they eat their veggies and even tuck them into bed every night!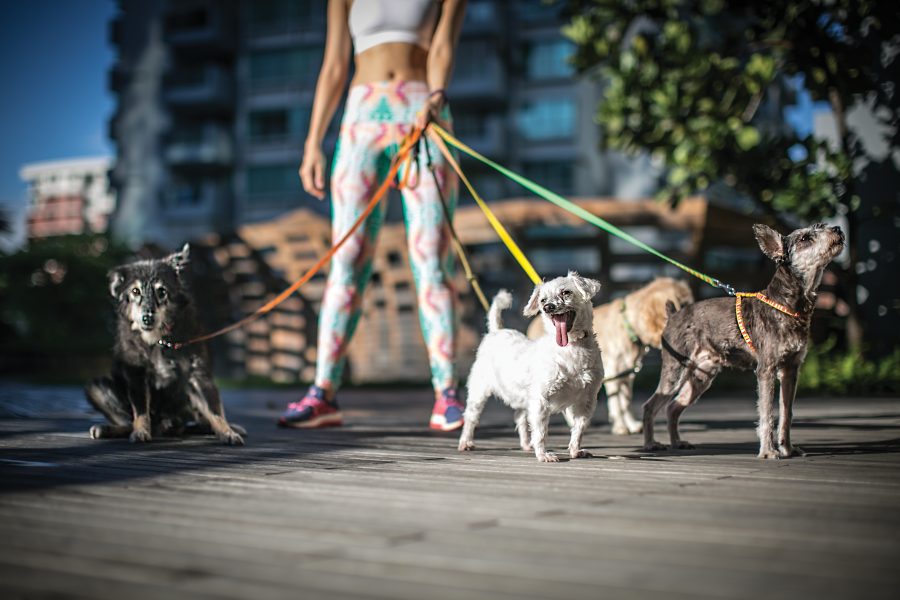 Walks with the kids before teaching morning class...
Motherhood is hard work! Do you have "you time"?
I've only got two passions in life, just yoga and dogs. Nothing else!  And I make it a point to have time for my passions. 
For seven years I was a recreational yogi, signing up for yoga classes at my gym once a week during my corporate days. But my job scope robbed me of time for me - not to mention my zest for life. I became so overwhelmed and anxious I began grinding my teeth at night. 
In the end, I left the corporate world and held on to yoga because I need 60 minutes of escaping reality and shrugging off responsibilities - even now my grinding resurfaces when things become too stressful. In the end, I became a yoga teacher simply because I want to help others find what I found in yoga - myself. So when I'm not with the kids, I'm with Yoga Movement, myself, and all that goes with it. 
Thanks Gabrielle, Maddie, Gracie, Julia, Nala and Julio for letting us spend a day with the family!