Aarika, Charmaine, Elspeth and Gen met as kids, and throughout the years they have become as tight as tight gets. As fate would have it, school and work overlapped their crew with members of our YM family, even before they started rolling into YM classes together. So, it was only natural to take the next step and make them the faces of our New Year campaign!
But what makes this group special? Read on to get to know the crew better, and give them a shout out for making confetti look easy to work with next time you catch them in class!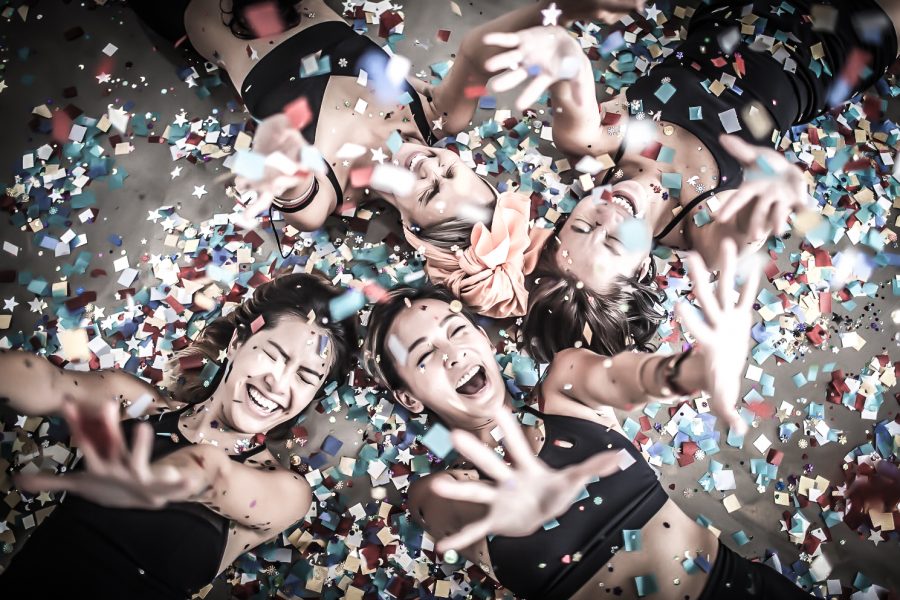 Hey guys! Before you started coming to Yoga Movement, how did the four of you come together as friends?
Aarika: Me, Elspeth and Gen were in the same primary and secondary schools, then we adopted Charmaine! We lived five minutes away from each other, and all had many common circles... church, parties, and cheerleading. We very naturally gravitated toward one another.
So you've all been friends for how long now?
Charmaine: We turn 34 this year. I cannot come to terms with the fact that we're mid-thirties… so close to 40! But that also means we've been friends 19 years.

How did you stay in touch after school?
Charmaine: Aarika and I both studied Film & TV, and got our first jobs together in a production house. Elspeth, Gen and I also worked together at Resorts World at the same time... Gen in Universal studios, Elspeth and I in marketing. This was all more than a decade ago! Now Aarika and I work at Elementary Co., a branding and marketing agency we started with family and friends.
You four have taken so many twists and turns together… how do you see yourselves evolving in 2017? 
Charmaine: We said yes to every opportunity that came our way in 2016. It was fulfilling and enriching… but very tiring. This year let's be open to new things, but in Aarika's words, say yes to opportunities with wisdom, spending more time on meaningful things! Travelling more, more time with family, more room to breathe… even if it's a staycation. One other highlight of 2016 was our girls trip to Bali, it was our first friends trip in 10 years! We're already trying to plan another this year.

What did you get up to on your friends trip? 
Aarika: It was meant to be a relaxing trip… but there were lots of moments that were traumatizing, a couple of moments we thought we might die! For example, we wanted to go out to a lagoon, and once we arrived the guide told us we had half an hour until the tide got too high and would sweep us away… and that 2 locals had just died doing so! We also drove an hour to a waterfall, climbed a 200-meter cliff, and realise nobody else is there… just us, on these rickety wood stairs. So, in the end the hashtag for the trip we invented was #NOBASICBEACHESINBALI. Every time we did something it was like, okay it was worth it… because we're still alive!
Are you guys going to tempt fate, and take another trip?
Aarika:  We're trying to plan one for 2017! But we've checked our planners through to September and so far there's no weekend even all four of us can overlap. So, realistically, we'll probably rent a villa and bring our kids… make this one of those more meaningful things to do! That way we can stay in the pool all day, and we'll all come back brownies. Slightly less active than the last trip!
A beach bum vacation's always in order, but do you usually stay active?
Aarika: To be honest we were good until October last year about going to YM for classes, all four of us together. Then Gen and Elspeth got different jobs, Elementary picked up, and we all didn't end up making the time for class. But we're all East Coasters, so in 2017 we're going to strike that work-life balance, going to be going to the East Coast studio!
See you all on the EC mats soon! Thanks again for the catch-up, and mastering the art of confetti throwing!