You know that expression "nothing happens overnight"? We feel the full extent of those words, each time we build a studio from the ground up. But Serene, who swings just that charm wherever she goes, has become Yoga Movement's method to the madness! Read on to meet the designer of our Robertson Quay and East Coast studios!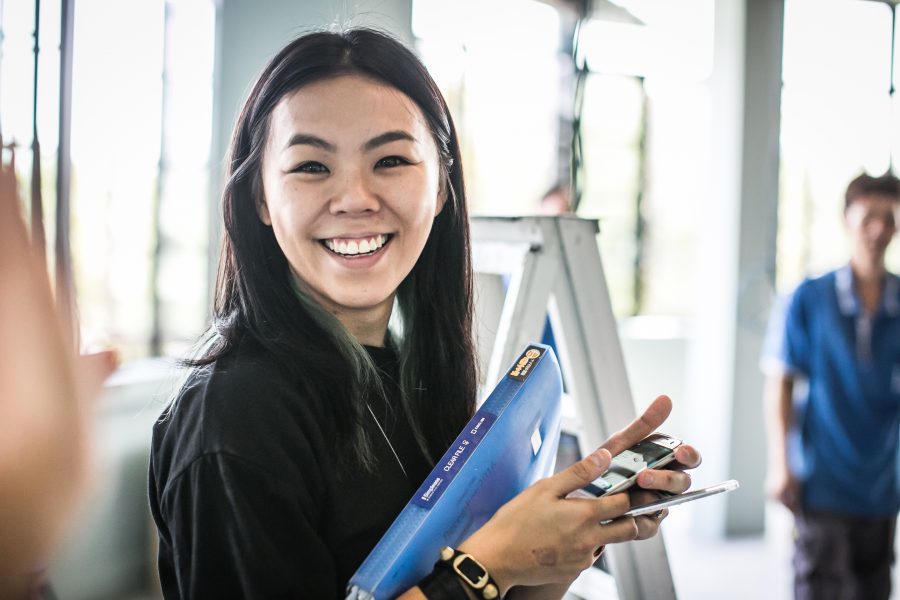 For those you've yet to cross paths with... who is Serene?
An Interior Designer for 5 years and counting at Three-D Conceptwerke! Before this I was pursuing my marketing degree by day, doing martial arts by night. I was 100% devoted to Muay Thai then, competing and training at the gym almost every single day. But as age caught up, my injuries kept resurfacing and I decided to step out of my comfort zone a different way by joining this firm. They always encourage me to take challenges I would have never have taken, and I'm enjoying every step of the way!
We're missing the link! How did you step over from Marketing and Muay Thai to Interior Design...? 
Haha, because there is barely a link! I applied as a marketing executive at another design agency, with no design background, but ended up thrusted into an interior designer role…  and I've just gone with it! The continuous learning along the way keeps me going… I'm always eager to try out new ideas, and see how beautifully things can come together. I'm in love with so many different concepts... my own house started as a Scandinavian concept, but it's a constantly morphing space!

How did worlds collide, linking you up with Yoga Movement?
I actually met Alicia, YM's founder, in 2012 practicing Muay Thai. We bumped into each other again after I switched over to interior design. She and Pete, her husband and the other director of YM, needed a designer for their new home. I got the job, and together the end product we created was stunning... the trust and strong relationship we built during that renovation is what lead to being commissioned again, this time for their new studio at Robertson Quay. It was a new and cool challenge because I've been a student at Yoga Movement since 2014 and I got to design the space from the student point of view! Plus I get to use and enjoy the facilities and space myself:)
---

Did designing Robertson Quay shape how you wanted to design East Coast studio?
I think the parts of Robertson Quay that are nicest are the usage of glass block/cement/metals elements… it was so nice to see people posting pictures of the details on social media with such positive feedback! So when I was given the second project of East Coast, the first thing that came to my mind was the need to incorporate unique and #instragramworthy details as well. In the end, East Coast's mood came together by using wood/patterned tiles/Peranakan designs to reflect the studio's location in a tradinational Peranakan district, Joo Chiat.

Clients can be hard… what was the biggest challenge working with YM? Tell us!
The main challenge wasn't related to the design, just complying with the landlord authority. Sometimes it could be quite frustrating but that's all over:) Seriously... in terms of client, no problems. I've always worked with great people! I know you won't believe me, but really, Alicia and Pete have been really nice and they always gave me their 100% trust. I couldn't ask for more.
Good answer;) Do you count working on your feet all day as exercise? 
Yes, the crazy design lifestyle often means working 7 days a week on my feet... but I've always had a thing for fitness. I'm into yoga and running now, because they're manageable around my schedule… but I'm hoping to also just take up a more relaxing passion like calligraphy, or handicraft making classes!

Until you can find a quieter hobby, how do you get R&R?
My beloved French bulldog, Ah Huat! A dog breeder was trying to get rid of him so badly... they said he was too ugly to be adopted… but he's the best dog ever! I've had him for 2 years and its always this silly looking face that warms my heart whenever I come home after a long day!
What's next for you and Ah Huat and Three-D Conceptwerke?      
More exploring concepts that can pull together, more movies with Ah Huat, and trying to get back in shape as much as I can!
Always so good to catch up Serene! See you for the next new studio (just kidding...?)!
*Image Credit: Arvind, Three-D Conceptwerke