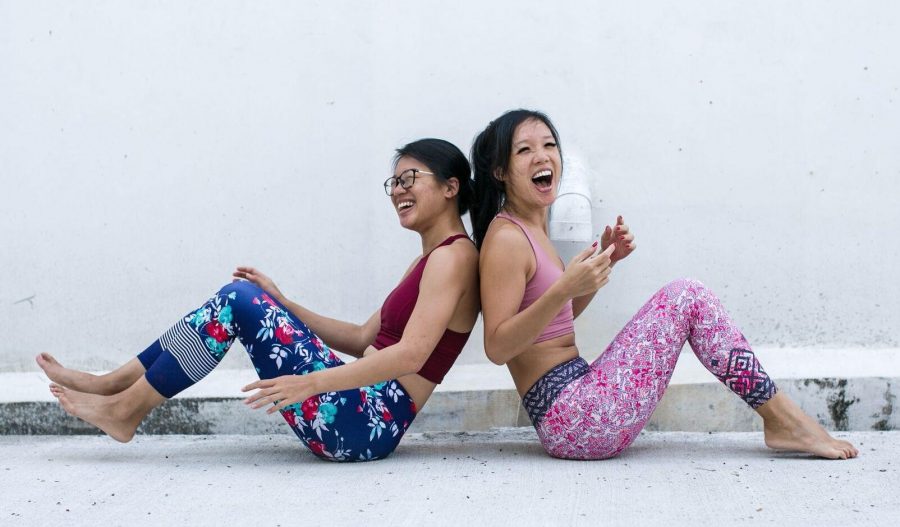 We're halfway through our Buddy Up campaign… and we've seen plenty of dynamic duos take to the mats together – some of whom are YMers who have successfully converted a friend new to Yoga Movement, and received an extra FREE class just for being a Newbie; others include our YM Fam who continue to remain mat buddies.
One such pair is Eve and Liz. The friendship between Eve and Liz is a foolproof one… because they are in fact, sisters! The duo have been close since childhood, but their sisterly bond turned to more of a close friendship in their young adulthood. Eve recalls taking a solo trip to Melbourne to visit Liz when she was 18 just because they missed each other, "We spent a week with each other visiting museums, driving out to wineries, eating at all of Liz's favourite restaurants, and just talking every day." As the two grow older, the age gap seemed to close. Eve ended up going back again every year for a few years after that to enjoy the new found friendship. The two also started mixing their friends and sharing the same social circles, spending even more time together. Liz says, 
"I love meshing my worlds together, and when people I love end up loving each other!"
The sisters have heaps of praises to sing about each other. For Eve, it's Liz's charm and her way with people that she admires the most, "I used to joke that she picks up 'strays' or strangers whenever she's out – in a restaurant, bar or even the airport!" Eve adds, 
"People naturally gravitate towards her, also because they can tell that she's such a big-hearted and generous person."
Eve is one of the busiest people you'll meet, but even so, she takes time to be there for her sister whenever Liz feels a little messy on the inside, "Eve is completely non-judgmental, so I feel comfortable telling her just about anything. She says 'I understand' a lot in our conversations… and I really believe she does! She has lived many lifetimes in her 25 years," says Liz, 
"She gives great advice and even better hugs… it's hard to imagine she's the younger sister sometimes!"
Eve jokes that her only gripe is with Liz's grandma body clock, "I'm not exaggerating when I say Liz is a morning person – she wakes up at 6am and gets sleepy by 9.30pm, which means she's always disappearing from the dinner table when we're all starting to wind down and hang out." In Liz's defence, she had just as much stamina as Eve when she was her age – super social, and on top of everything that was happening in town. But now, she goes to bed by 10 pm just so that she can get to yoga in the morning. "I wonder if this will happen to Eve too!", Liz laughs.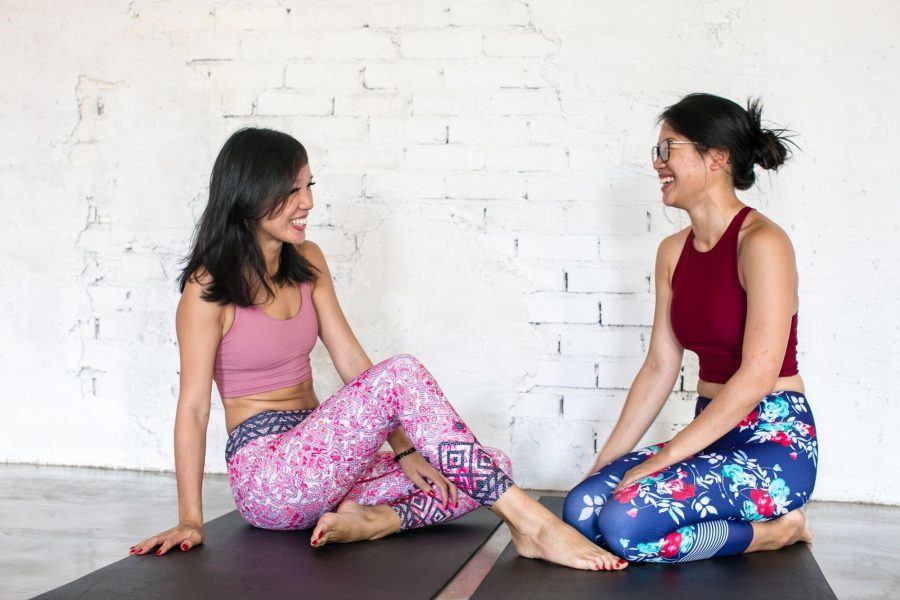 A yoga class is always in the books for the two of them. When Eve and Liz are not laying in bed in their PJs, bingeing on a TV series together, they're hitting their favourite Robertson Quay Studio for a morning yoga sesh, and topping it off with an avocado or mushroom toast from Grounded post-practice. "We call these our Friyay avocuddle sessions!", exclaims Liz, "The couch is awesome to pile into after a workout. You get the perfect 'sea' breeze too – it almost feels like you're not in the concrete jungle of Singapore!"
Got a loved one you want to take to a yoga class? This is the perfect time for familial bonding. Share a 20 class Buddy Pack with a best bud or family member and get two FREE classes... plus an extra FREE class for every Newbie that signs up! Get the lowdown here.