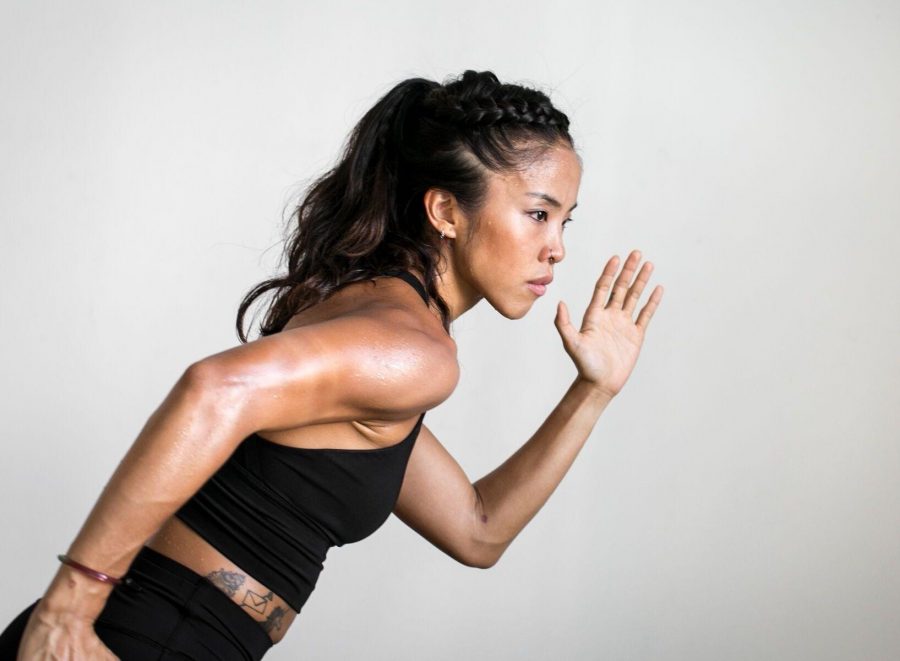 It's been just three days since we rolled out HIIT Yoga classes in all our studios! You blew up our booking system, putting our first three classes on waitlist a week before we launched; and you made it to class – come rain, come shine. It's safe to say that HIIT Yoga has been nothing less than a hit so far! According to CNN, HIIT will be the number one fitness trend in 2018, while yoga has still remains in the top 10 for years and years (looks like we're not going anywhere). Our teacher, Mei Yan, kicked off our first ever HIIT Yoga class – a full house, no less – bright and early last Sunday. Truth be told, she was a tad apprehensive when she had to teach a HIIT Yoga class, but as soon as she started, she was completely in her element, "It has definitely taken me out of my comfort zone - in a good way! I run and swim a lot, and that's where I get my cardio, but I never thought that the marriage between HIIT and yoga would ever make sense," she adds, "It's starting to grow on me, and for those of you who are still apprehensive: I play Coldplay in class, which makes almost everything better!"
Marrying two of the world's favourite workouts seems like a step in the right direction... but don't take it from us, take it from our first few students who made it to the mats, and worked up such a sweat that even the mirrors fogged up in a non-hot class:
"I was pretty apprehensive about attending the class initially, because I was never really comfortable with high intensity trainings. 'Flow' is an incredibly important element for me in my practice, and while I thought HIIT would inevitably lead to rigid movements and a lack of flow, it certainly wasn't the case. The exercises still retained this element of yoga that I love, but managed to amp up my heart rate much more. I also liked how, as in all classes, we were encouraged to work hard, but was also affirmed that our personal pace might not be the same as others' around us  – and that's okay. The positive energy of the people in class made it all the more motivating!"
- Natasha Koh
"HIIT yoga really got me sweating... and I loved it! Although I was working hard, I felt strong and centred at the same time."
- Krissy Jesudason
"What a nice way to integrate yoga and HIIT. It's not like a usual, fully-fledged HIIT class – there's more flow, and it's great for people who love yoga but want a more intense workout. After all, you gain strength and flexibility for your yoga practice, and it's a fun way to get your heart rate up to improve on cardio too! The influence of yoga stays true in the sequences, which is awesome. I loved it, I really really did!"
- Tingshan Tiong
HIIT yoga gets your heart rate up while stretching and strengthening your body. More calories burnt per hour while having fun!
- Elissa Oh
HIIT Yoga is a refreshing change from the standard yoga practice I am used to. It offers a change of pace for me to practice poses that I am familiar with, and I found that the momentum from the faster pace actually helped me to execute some poses better than usual, such as crow. I enjoy the faster pace in general and think that it is an exciting inclusion to conventional yoga for a wider variety of yoga styles for everyone to enjoy.
- Cheong Wei Ming
"For someone like me who is obsessed with cardio, HIIT yoga is truly the best of both worlds! It gets the heart rate up to feel those endorphins pumping, and at the same time it stretches out those tired and tight muscles. I enjoyed every minute, every second of it!" 
- Alice Zou
"I'm usually dead worn after a yoga class but HIIT Yoga was surprisingly refreshing! The flow, and the way we were pushed to our limits were really smooth and encouraging. I was deeply impressed by how well-planned the class was. I have never burned this many calories in a yoga class before!"
- Kerry Neo
"HIIT Yoga was a blast – great sequences at a tempo to make you sweat. Your mat buddies keep you going when your muscles start to burn!  Overall an awesome class with restorative stretches to leave you feeling re-energised. I can't wait for the next one!"
- Mike Pearson
Want in on all the action? Find out all you need to know about HIIT Yoga here, and book a mat for your shot of endorphins!