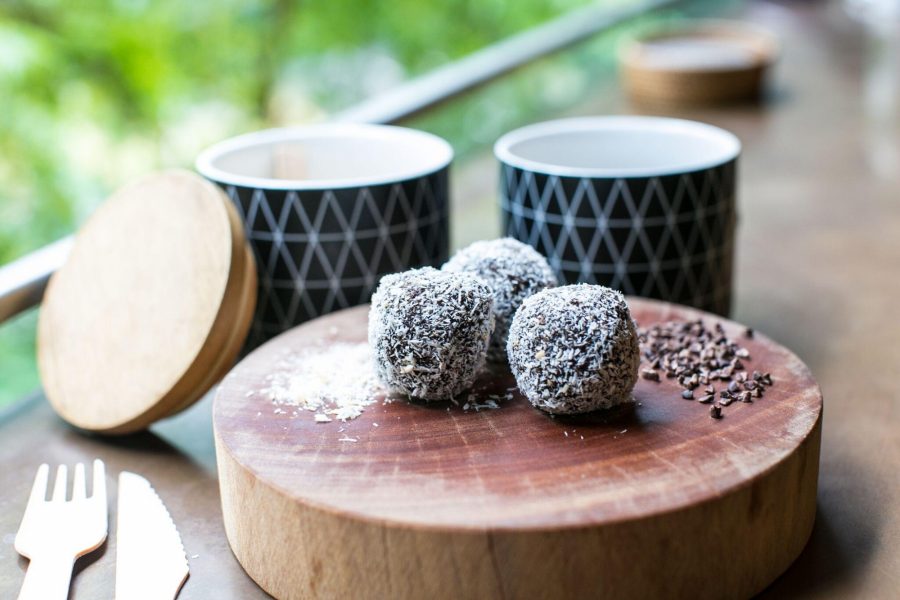 Are you gunning for 2 FREE classes, and bragging rights for completing all 7 class types during our  New Limits campaign this August? If you are, you might just find yourself clocking in two or more yoga sessions a day to get closer to earning your stripes. And if you're anything like us – constantly peckish and in search of good food and coffee, then you'll need fuel to get you through those back-to-back seshs... 
We're obsessed with the Energy Balls that Grounded by CMCR at our Robertson Quay Studio have to offer – they're are chockfull of all the good stuff, and never fail to satisfy post-practice. So we got our friends behind the kitchen to put together a version of their Date and Cacao Energy Balls – the perfect snack that takes less than fifteen minutes to put together. 

Date and Cacao Energy Balls
Makes 12 balls
1 cup ground pumpkin seeds
1 cup ground sunflower seeds
2 cups pitted dates
1/4 cup cacao nibs
1/2 cup cocoa powder
A pinch of pink salt
A splash of water
Vanilla essence to taste
Desiccated coconut to roll in
1. Pop all ingredients with the exception of desiccated coconut into a food processor and blitz until you achieve a smooth texture.  
2. Take a handful of the paste and roll them into evenly sized balls. 
3. Dunk each ball into a bed of desiccated coconut, and roll around to coat them evenly.
Now you're all set to attend a sweaty HIIT Yoga sesh, two-hour Level Ups, or back-to-back classes... without that rumbling tummy! If you don't have the time to rustle 'em up – fret not, these Energy Balls are available for purchase at Grounded at $6 for 2, in 3 flavours: Lemon Bliss; Date and Cacao; or Cranberry, Peanut Butter and Espresso!