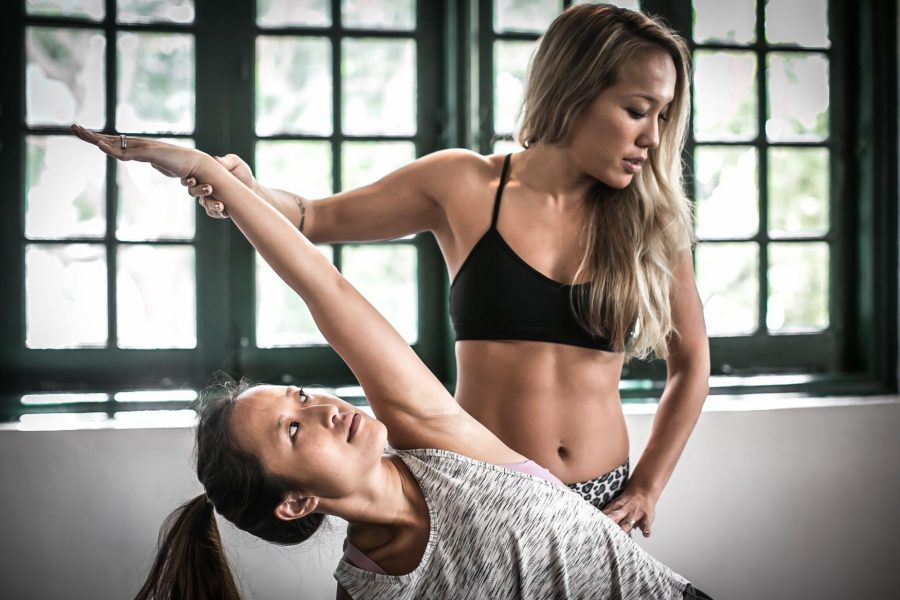 A private class might sound daunting to some: an hour-long, one-on-one sesh with a teacher solely focused on you… Does that mean I won't have a chance to slack off? Well, yes, but private classes at Yoga Movement also don't have to be attended by just you alone! Like all our other classes, our private classes are made accessible to all. That means, you can choose to attend it on your own, or get creative —  stag night, bachelorette party, team bonding sesh... the list goes on! $110 gets you an entire studio plus a teacher, and every additional pal you bring in would be a mere fee of $30. 
When done in a solo or small group setting, private classes allow teachers to pay close attention to what you wish to achieve, while getting you there in a safe and focused way. In addition, private classes also give you plenty of freedom to ask questions, request for modifications to progress or regress your posture, and basically, play around in any pose that feels good for you — your class, your rules, your goals. ­
A personalised session is great for people at any level of their practice. Newbies can get a crash course in the fundamentals of yoga, casual yogis can enjoy an undisturbed practice, while seasoned practitioners can explore a deeper version of their practice. Work at a pace you're comfortable with as you find balance in your Warrior III, or try your hand at handstands. 
Long story short, many of us can benefit from private classes! Here are just some of the plus points that'll make you a pro in no time:
Enjoy a practice catered to you
If you have a goal you'd like to crush, a specific playlist you'd like to flow to, or if you want to practice a certain style of yoga that's not on our menu, a private class could be the way to go. List your requests, and we'll find you a teacher who can fulfil them!
Understand how to work with your previous or existing injuries
We understand that you've been having a nagging urge to get back on the mat as soon as you got the green light from your doctor. But before you get too excited, we encourage you to equip yourself with all the know-hows to modify your practice. Understand which poses to avoid (and why!), and which modifications you can take if a teacher cues a pose that might not be safe for your injured region; before you join a group setting.
If you're pregnant… learn the dos and don'ts
Congrats on the bun in the oven! While we don't have regular pre- or post-natal yoga on our class schedule, we do have teachers who are well equipped in educating you on the do's and don'ts in class as you manage that baby bump! A private class could be a one-off session just to get you familiar with the options you can take, or it could be a regular session targeted at the hips, back, and leg muscles.
Start your yoga practice at your comfort level
As a Newbie, stepping into your first few yoga classes can be intimidating. If you prefer to get acquainted with fundamental yoga poses before booking into group classes, a private class is a good place to start. Know that you can always drag a few friends along with you if you like!
Feel like you need a one-on-one sesh? Drop us a note at info@yogamovement.com with any questions or requests, and we'll book you a studio and teacher!