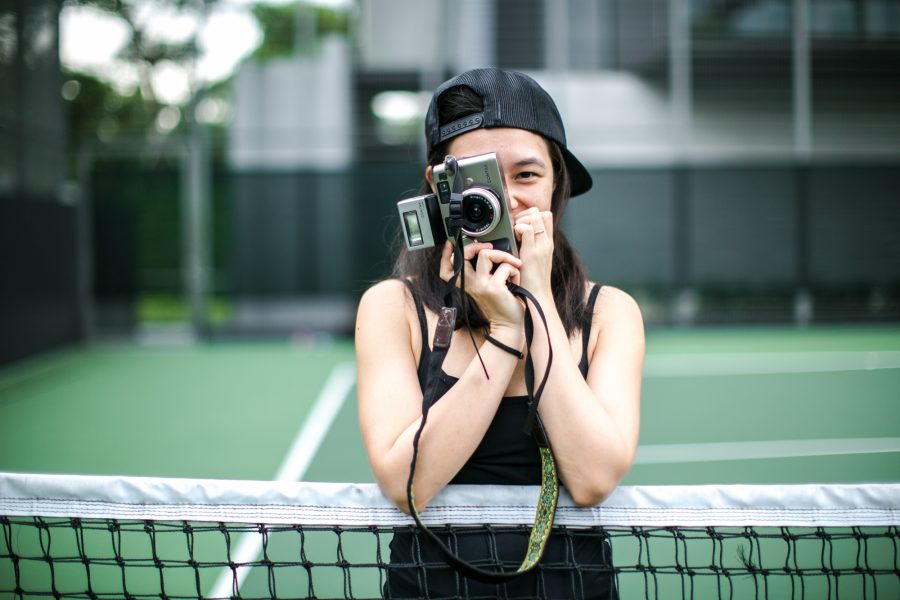 From your first glance at Alvelyn's (@alvelyn.alko/@iamalvelynalko) photography, you're already summing up the kind of character she might be – eccentric compositions, funky headpieces and daring poses couldn't possibly come from anyone less than a human ball of energy. 
We met Alvelyn at our Orchard 22 Studio in the PM, and she was bouncing off the walls as if she had just downed ten cups of coffee. As a hyper-energetic skateboarder, we wouldn't put it pass her to literally bounce off our walls, but a recent ankle injury meant that the skateboarding and jumping around have had to take a back seat. Even though Alvelyn is someone who finds it hard to even sit still, she's taken to yoga as a form of recovery from the multiple injuries that years of skateboarding had given her.
Alvelyn is an eccentric one – and that's what we love about her. She allows her playfulness and effervescence to shine through her photos, so no run-of-the-mill shots to see here. As a photographer, being shot is tough stuff for her, but she obliged and humoured us... just by being herself!
Hi Alvelyn! So tell us, what's your story?
I graduated from Fine Arts painting, and I was lucky enough to have scored my first commercial work for Adidas about a year after school. More commercial work came along, and on the side, I shot weddings, families, kids, babies... you name it! That was the same time I discovered yoga. A year and a half later, I got pregnant and had to undergo c-section, and that changed the way I practiced – it was harder than starting from scratch. About 7 months ago, my lower fibula (area nearest to ankle) snapped while I was playing with my son, Alfie, and had to get metal implants. Recovery was a lot faster than expected due to therapy and yoga. With obstacles like these, I became much more accepting of my practice as something that strengthens and straightens me. I have no attachments to the outcome like what I used to have – I'm just thankful to have every part of me alive and working.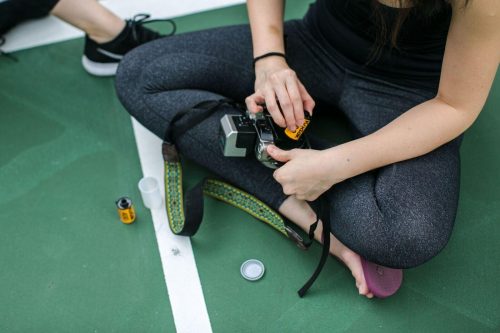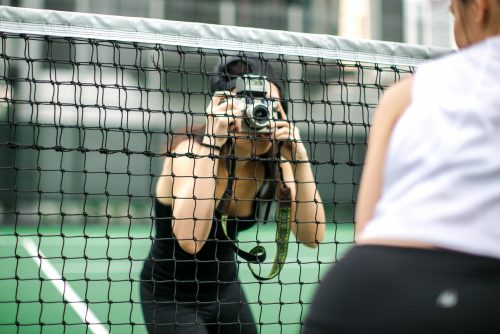 How did you get into photography? 
As a skateboarder, I was really into documenting skateboarding tricks and fun stuff... and it all sparked from there. Soon enough, photography just became an extension of myself. People often say, "put your camera away and live in your experiences", but I don't feel that way. I live in the experience of a photograph: whenever I look through my images, I get reminded of all the connections and conversations!

What's your style of photography? 
I love shooting life, so I don't label myself as a certain genre of photographer. I like it when people are free-spirited and left in their own element. I observe my subjects, feel their energy, and fire away when the moment feels right. I don't plan my shoots too much, I like the idea of being fluid. That's when you really bring out intimate, natural and real moments... and it shows in photographs!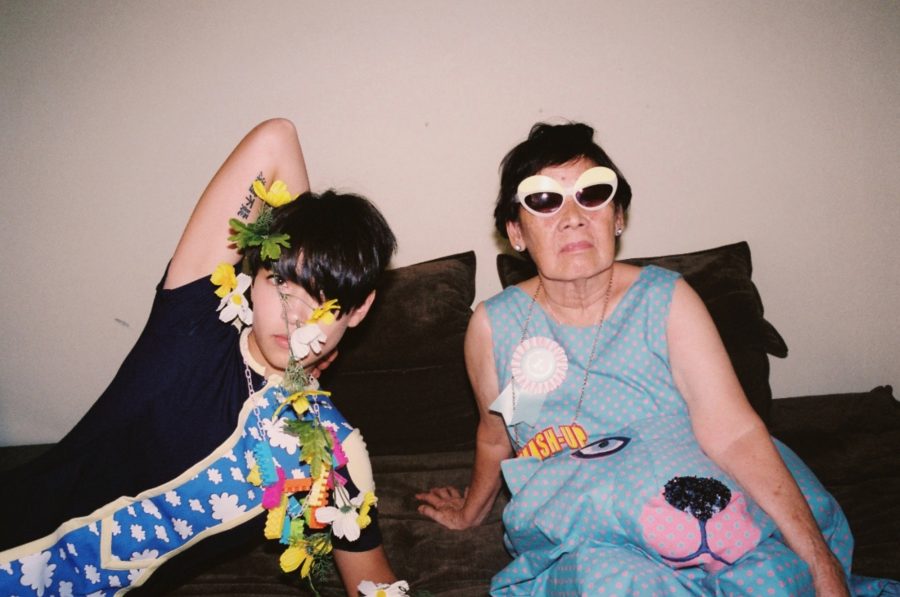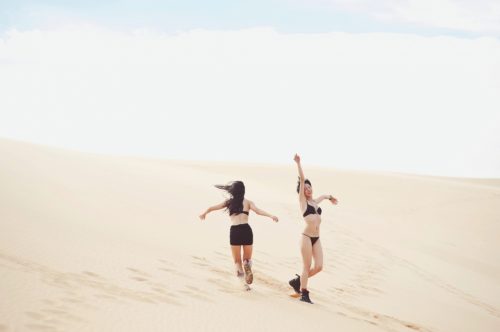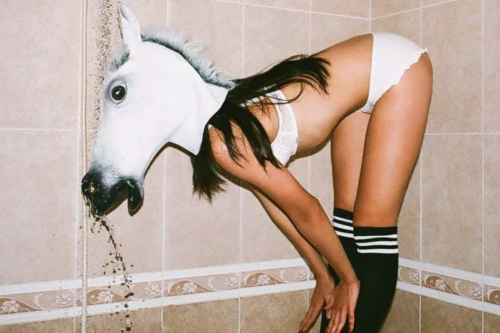 Tell us about your first yoga class... 
It was a Yin class, and truth be told, I found it terribly boring. I was constantly fidgeting and yawning – I did not know what a mindful practice meant back then. It was mentally challenging for a hyper soul like myself. Trying to hold a relaxed pose for what felt like forever? Gosh, it was too intense for me. 
What got you hooked onto yoga? 
I feel like yoga has been a journey that I simply grew addicted to. I have been active my whole life – I grew up skateboarding and played the sport until my ankles could not handle the stress and injuries. A few friends tried to 'sell' yoga to me: "it's a good workout", "you'll sweat like crazy", "you'll be able to sleep and focus better", they say, so I thought, heck, why not give it a try? My first few classes were slow-paced, and I decided that they were not for me, so I jumped straight into an intermediate hot vinyasa-type class. I was mad inspired – back then, you could find me in the studios for two to three hours, five to six times a week!

What do you love about YM? 
The teachers, the lovely front desk staff, and how the Tiong Bahru studio is located right below my home.
Where can we catch you? 
In my neighbourhood, at the Tiong Bahru Studio... though sometimes I do travel to other studios for specific teachers.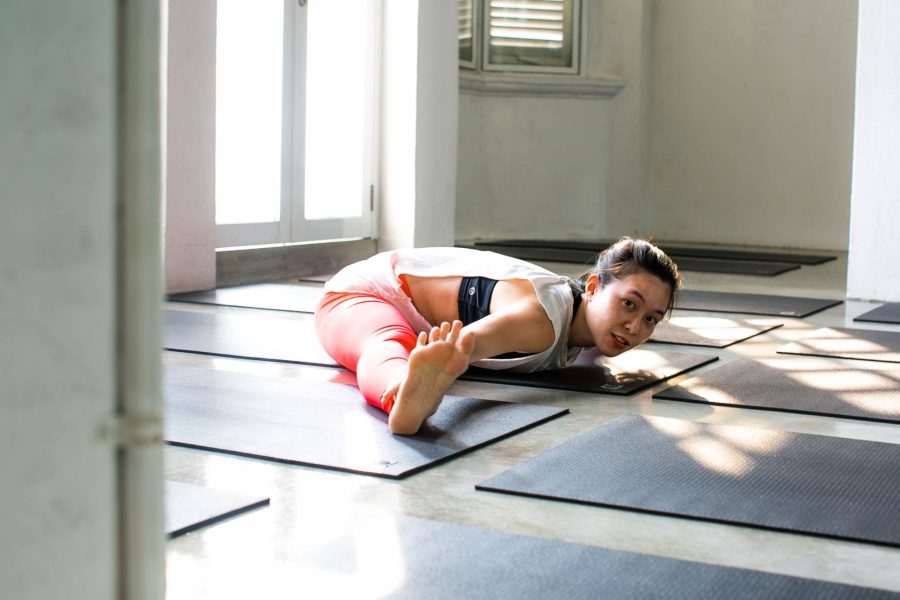 What else do you do when it's time to rise and grind? 

Alfie (as seen below) and I do a bit of yoga together at home – usually it ends up with him climbing all over me. Sometimes we randomly break into a dance together (Jackson 5 and Michael Jackson are some of his faves). He has been watching me groove to music being played – it amuses him, and he follows suit. Our current obsession is the moonwalk!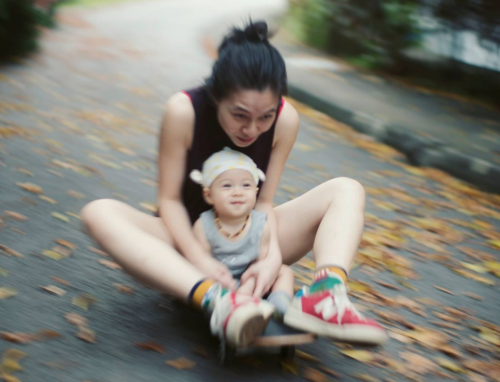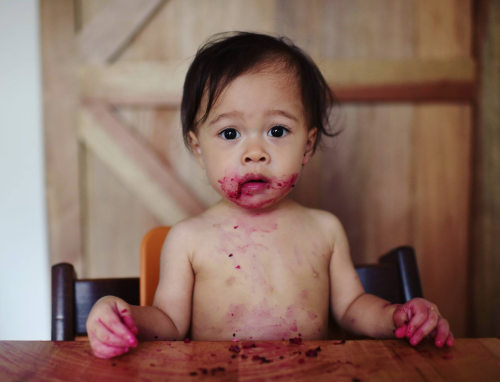 Any tips for rookies who are looking to get creative in their photography?
1. Find what you're obsessed about. I LOVE life, people, and conversations with people about life. I use these as inspiration and material for when I shoot. 
2.  Let everything happen organically. Think less, feel more, observe more... Play and flirt with everything – it'll show in your photos!
3. Discover what's uniquely you. You'll find that I scribble text on some of my images to give a plain photo added character. Find what's you, and let it show up in your photos.
For more of Alvelyn's quirky work, check out her page here!