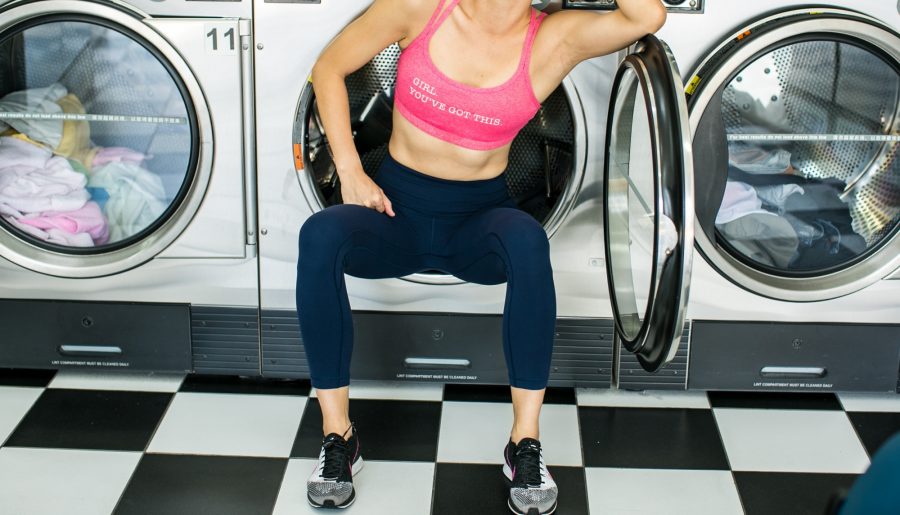 Your activewear may look like it can withstand a beating, but it actually needs more love than you think. Many of us spend more on workout gear than we do on our regular, daily threads because of the long list of technical properties that come along with a great pair of tights. And for that same reason, they need that extra TLC so that their technical capabilities work for you for as long as you wear them. If you're simply throwing your yoga gear into the wash together with the rest of your clothing – you've come to the right place. We've gathered some tips from our instructors to help you prolong the lifespan of the clothes that you've spent your hard earned coin on:
I'm mad about laundry, and also super OCD... so you can imagine how much time I put into caring for my clothes! If I'm very sweaty after a hot class, I shower in my clothes to wash off that layer of sweat before taking them home for a good wash. I remove my bra paddings and put them in a laundry bag. Then, I separate all my whites from colours, and hand wash them with water and a little bit of baking soda and vinegar to eliminate any odour and bacteria that are still clinging onto them. They get packed into a laundry bag and sent into the washing machine along with those bra paddings. My whites go into a separate cycle with a bit of Vanish Power O2 Crystal White. I'm not a fan of dryers, so I make sure my clothes are sunned – I love the smell of crispy, sun-baked clothes! 
- Cassie
I remove the paddings from my sports bras before soaking all of my activewear in a bucket filled with water and some detergent. After 20-30minutes, I give my clothes and paddings a nice hand wash by scrubbing them clean. Dryers are a no-no for me, so I'll rinse them thoroughly before hanging them outside to drip dry.
- Linda
I separate my washes into three piles: black (or dark shades), whites and colours. They'll go in a laundry bag and into the washing machine to be washed according to their colour scheme to prevent any bleeds or runs!
- Shiq
I can't afford a new lululemon bra every month, so I gotta take care of my stuff! I try my best to hand wash all my activewear... except on busy days where I cut down on laundry time by washing my tights in the washing machine, but still hand washing my bras and tops after removing the bra paddings for a separate wash.
- Sindy
I collect my sweaty laundry for a week before washing them altogether. But if you do this, be sure to dry out all the used stuff completely... lest you get a stinky laundry basket and clothes that reek from odour clinging onto them! I put them in a laundry bag and into the washing machine with some detergent. Note to never ever use softeners as they tend to coat the fabric and damage the technical properties of your activewear!
- Selina
Get someone reliable to do it for you, hahaha! My husband does the laundry... and I'm not quite sure what he does but my leggings and bras last forever. It's an accidental bliss that began when I was constantly forgetting to wash his socks and undies that I launder separately from the rest of our clothes. Now he just takes over, and he does such a great job!
- Brenda
Need to stock up on activewear so you can enjoy lesser laundry days? Our retail racks at our East Coast, Robertson Quay, Tanjong Pagar, and Orchard 22 Studios stock your favourite brands like Dharma Bums, Lorna Jane and lululemon for your post-practice shopping pleasure!