I've been working at Yoga Movement, handling all things Content and Creative with the team, for just about a year now. After spending a bulk of my time putting together all the collaterals that go out to the studios, graduating from YM's 200HR Teacher Training Program (YMTT200) in September (a massive personal goal of mine), and teaching a few classes a week outside of work, I feel like I'm in a good position to pen down a few thoughts on how YM presents, and what the term "accessibility" means to me within the walls of the brand. Accessibility is not just another gimmicky word thrown around for the sake of standing for something — YM truly believes in making yoga accessible for everyone. 
But what exactly does accessibility mean, you might ask? According to the Cambridge dictionary: 
accessibility /əkˌses.əˈbɪl.ə.ti/ noun 
the quality or characteristic of something that makes it possible to approach, enter, or use it.
And according to YM, accessibility means exactly that: the ease of approaching a class that might otherwise seem daunting, the prime locations of our studios, the affordable price points that everyone can enjoy… basically making yoga available to one and all! 
The #YMFAM is a pretty diverse group of people. I've met clients from all over the world — both travellers and residents alike, athletes in search of a recovery stretch, people who take yoga very seriously, and people who are just here for the Savasanas. There are also plenty of men who come through the doors, crushing the belief that modern day yoga is a female-dominated discipline (thank you, dudes!). The last thing any of us teachers want is for the #YMFAM to feel uncomfortable, out of place, or excluded — that's why we avoid hopping onto the "Broga" or pre-natal yoga bandwagon (because those who don't fall under these categories can't participate); we don't chant or use yogic instruments (because the anti-spiritual yogis will make a beeline for the door); and we don't split our regular classes into different levels, or have specialised styles of yoga (because how would you know if you're "good enough" for it?). 
You'll notice that alignment, engagement, and transitional cues are very deliberately given to guide you from poses to pose; and plenty of options are provided for you to challenge yourself, or take a backseat. A lot of places will actually leave you to your own devices — Nailed the pose? Great! Physically unable to get into the pose? Well... keep trying, because that's sadly gonna be the only option you have!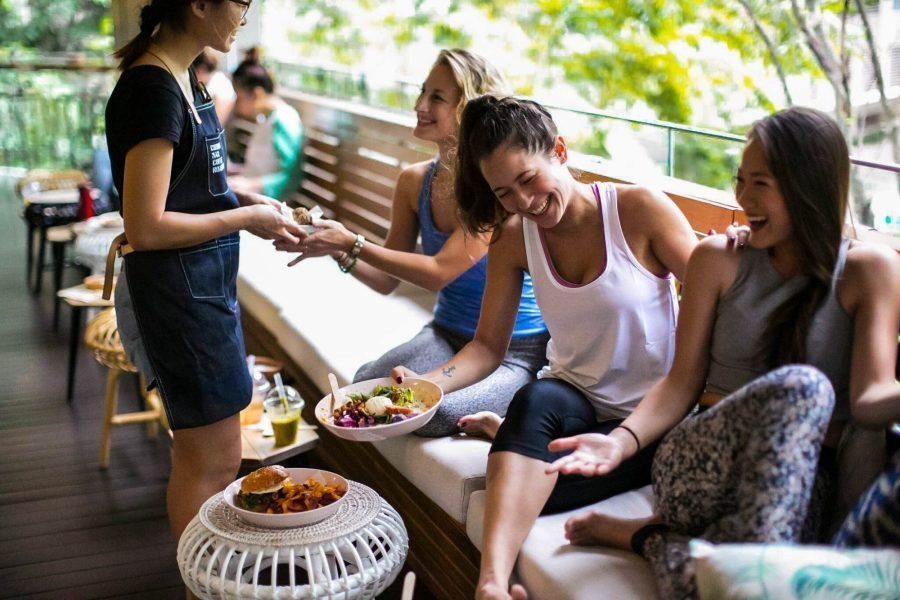 Beyond this, the places where YM set up shop are extremely important. Studio locations are strategically selected to fit the "YM vibes" — the hottest neighbourhoods with great F&B spots in the area, that are still accessible to residents, or easy to get to for people who travel from other parts of the island. The Robertson Quay, East Coast, and Tiong Bahru studios might be slightly off the beaten track to some of us, but they are in the heart of these neighbourhoods — a stone's throw for residents in the area, and a great excuse to go exploring after class. On the other hand, the Orchard 22, Carpenter Street, and Tanjong Pagar Studios are close to MRT stations and right by popular business districts — perfect for post-work yoga (right before post-work drinks of course). The best part? All studios are merely a bus ride away from each other, giving you the opportunity to studio hop from one class to another! 
As #YMFAM, you're free to come and go as you wish — YM doesn't tie you down with contracts, or try to hard-sell you class packs when yours is running low. There are validities assigned to our different class packs to give you ample time to get through those classes. But if you need more time on your class pack, the friendly Front Desk Warriors let you extend your stay — no questions asked. You're adults, so no need to send in that travel itinerary or doctor's note: we trust you. If it's still not enough, they'll gladly let you roll over your unused classes into a new class pack, so you still get back what you paid for (fret not, no one's here to run away with your cash).
YM stands for inclusivity and non-discrimination, so that even the most agnostic "yogis" can enjoy a good workout. That's what accessibility means. A brand cannot be all things to all people — and no one can, there's just too many alternatives in the world right now! So don't get your panties in a bunch when we say that we don't do a certain style of yoga that you might be used to (you can extend those requests to our private classes) — YM's gonna stick to delivering yoga to the people for a good long while.    
By Collette Miles, Content and Creative Manager, and Teacher at Yoga Movement.
Do you write? Do you have some strong opinions on subjects around YM, yoga, food, coffee, people… life?! Feel free to submit your opinion pieces to YM at info@yogamovement.com, and we might be able to get your words up in lights on yogamovement.com!