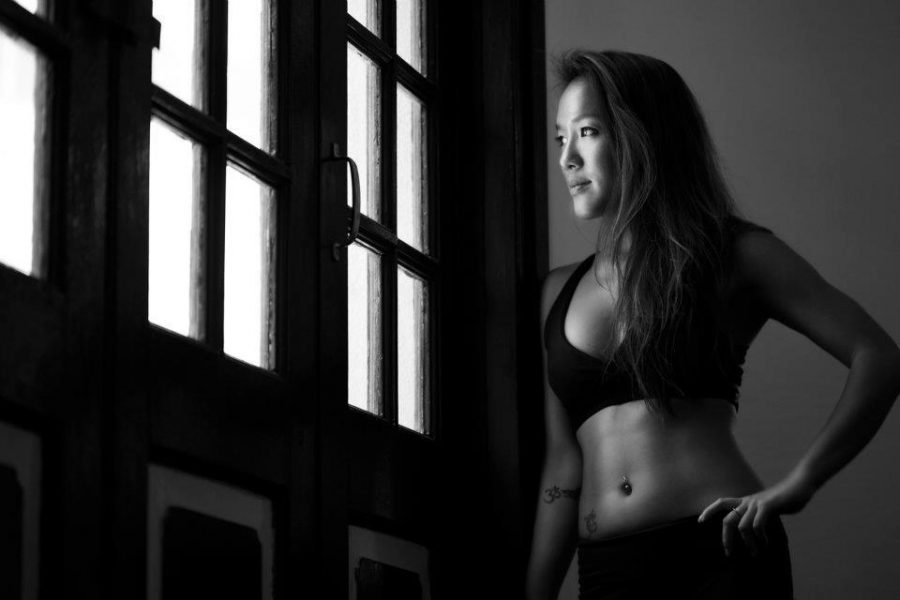 Alicia in Carpenter Street, circa 2013. Credits: Nicky Loh
To some of us, Yoga Movement Carpenter Street was where we began our yoga journey some five to six years ago. Back in 2012, there were only a handful of yoga studios in Singapore. Most of them were a subsidiary of large fitness gyms, with contracts that tie you down. Drop-in classes and Class Packs were unheard of, and monthly membership fees were the only things people knew.
Yoga Movement, on the other hand, entered the market on Carpenter Street with a fresh new concept with no rules. There were just three simple options on the menu — a Single Class, a 10 Class Pack, and an unlimited pack. Five multi-levelled Class Types were offered — back then, they were named Yoga Basic, Yoga Core, Yoga Power, Power Flow, and Monster Hot. Naturally, the yogis and the to-be yogis gravitated towards us because they enjoyed the freedom, openness, and convenience that YM offered.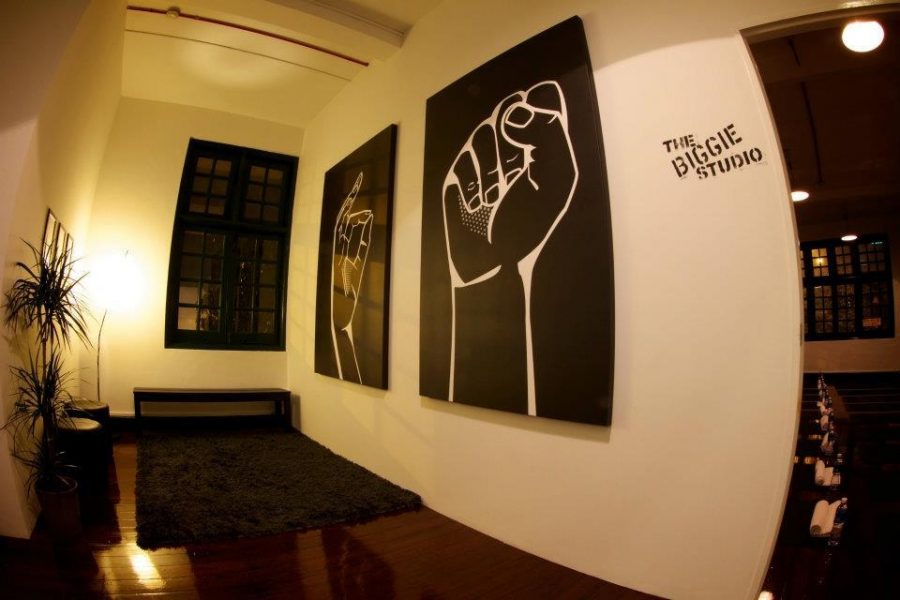 Where it all began...
To YM's founder, Alicia, Carpenter Street was where it all began… Her idea of opening a no frills, fuss-free yoga studio stemmed from an experience she had at a yoga studio in New York. It was a pay-what-you-want concept located in old buildings that were full of character, with a 'dirty-clean' feel. There were no check-in counters, no showers, no bullshit or loftiness. You enter the studio, take a great class, pay what you think the class is worth (usually a lot), and go about the rest of your day. Alicia was inspired, 
"There was really nothing accessible in Singapore for yoga back in the day, so my partner, Pete, and I jumped in on the opportunity to create something epic on this side of the world!"    
Creating a brand that is now six studios big was never part of the plan. "The intention of YM was to create something simple and small," says Alicia, "I was motivated to get the business going for just 6 months, hire a great team and move on to find something suitable for myself in Australia, where Pete had just took on a big marketing role for a surf brand."
Pete and Alicia can vouch that there's nothing glamourous about being a business owner. The Carpenter Street Studio is a former belly dance studio, with a layout that was quirky and hard to navigate as it was two shophouse units combined. They had to work through a simple design which they then put through to a contractor. Most of the interior was hand-built to reduce cost. The reception table was (and still is) a recycled door that they scored from the belly dance studio while renovating. Cash was collected through a tiny money box because there was simply no budget for a cash register. Alicia recalls, "We had no cash, period. We'd gone through rounds of grant submission — almost to the point of despair — but finally succeeding on our fifth attempt. We took no money or help from anyone — no investors, no parents' money..." She adds, 
"The only gift we accepted was one from my father — and I remember this very clearly. We couldn't afford a door, so he forked out $1,500 for the main ghetto glass door that still sits there today."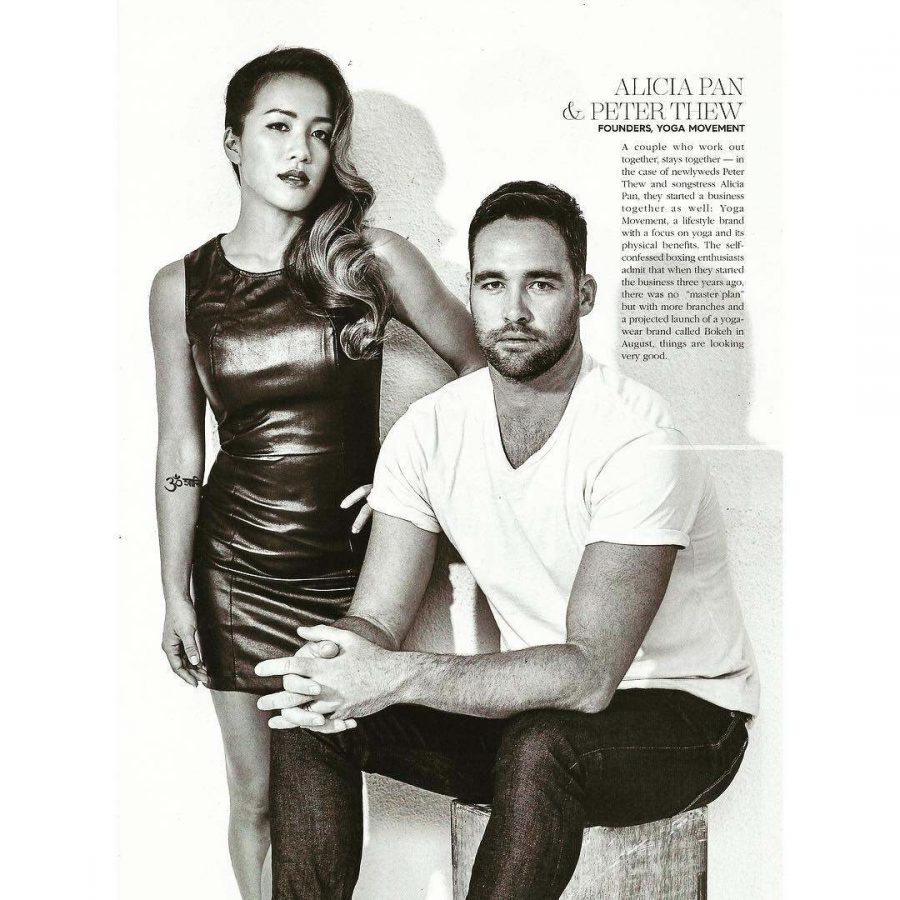 Credits: Style Magazine Singapore
In the first few months, Alicia took on the role of Front Desk staff, Cleaner, and Teacher. When students came through the doors, she would sign them in, lock the door, teach the class, let them back out, then clean up the studio. After four months of perseverance, Yoga Movement Carpenter Street saw its first full class of 20 mats in the Smalls Studio,
 "I remember quickly sending Pete a photo of the amount of shoes in the studio when class was in session. I was nearly in tears!" 
From then on, Yoga Movement noticed an increase in demand as classes at Carpenter Street started to fill up. The partition that separated the Biggie and Smalls Studios had to be opened to accommodate up to 49 students. The studio even had many big names come through the door, including a UFC fighter who frequented Monster Hot to cut weight while prepping for a fight.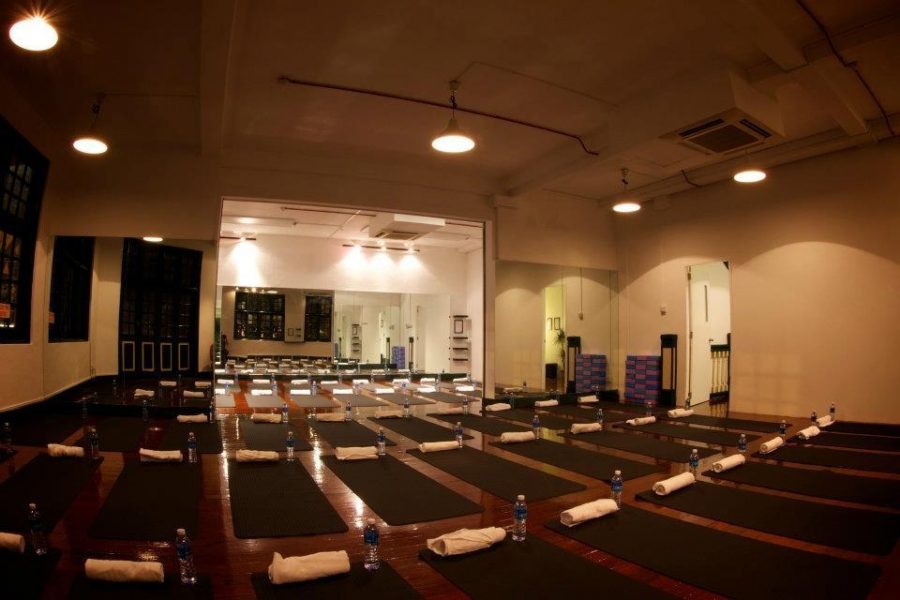 Opening up the doors to create a "Monster" class of 49 mats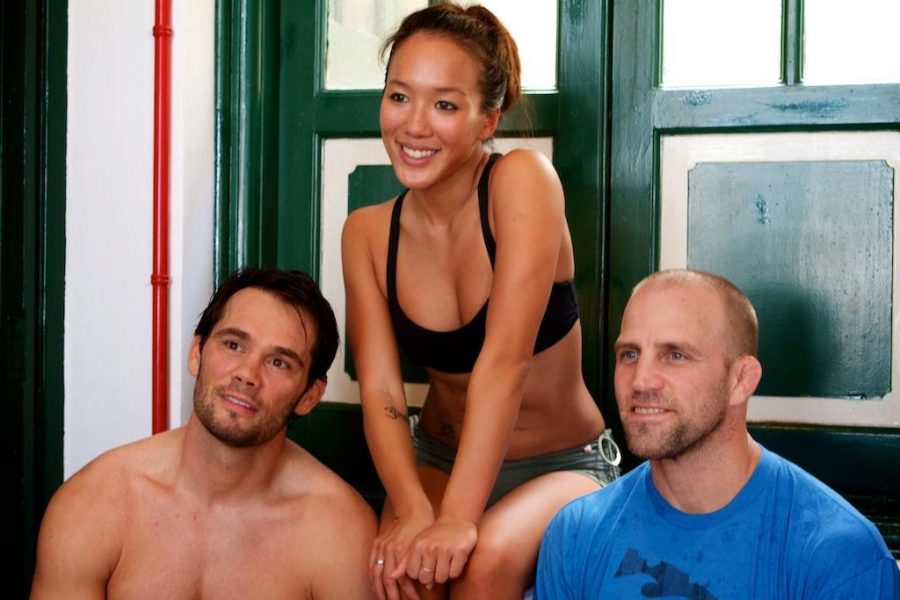 Alicia with UFC Fighter, Rich Franklin; and MMA Fighter, Heath Sims
A total of 10,500 Newbies came through the door in 2012 — a far cry from the 36,000 #YMFAM who visit Carpenter Street a year now, but it was a big deal for a studio that had only opened for a year. Pete and Alicia finally realised that they had a good thing going, so Pete made a tough decision to pack up, leave his dream job, and move to Singapore to work on the business together. About half a year later, Pete got down on one knee after Alicia's Friday evening class at the Biggie Studio on Carpenter Street… much to her surprise! "That class was filled with friends, and I remember thinking to myself, 'Wow, it's so cool and coincidental that everyone's here at the same time!' Little did I know that it was all pre-planned weeks ago by Pete!"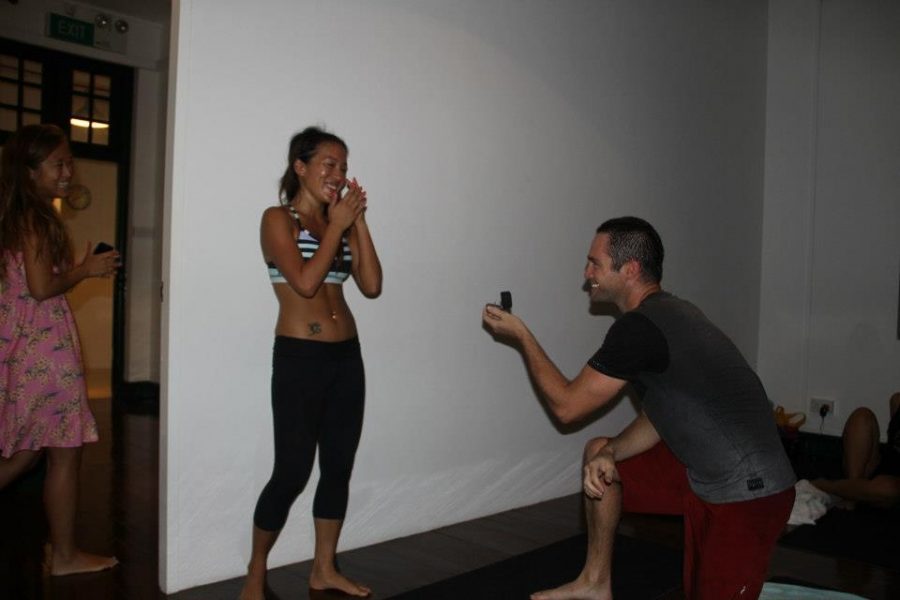 The Proposal
Apart from the proposal, the start up hustle will always remain one of Alicia's favourite memories of Carpenter Street, "There was so much figuring out, so much unknowns. But those were simpler times where we only had 6 staff in total, all who doubled up as Teacher-Front Desk, or Front Desk-Cleaner." She adds, 
"I'm very proud to say that we still do have clients and staff that feel like family who are still with us since Day 1; and because of that, I feel like I'll always have a piece of Carp with me."
Our Carpenter Street studio will be moving on to greener pastures with the shophouse getting a new owner and a facelift as part of efforts to rejuvenate the Singapore River region. We watched our space grow from 385 students in a month in 2012 (shoutout to the OGs of Carp), to over 3000 students a month today. It's a bittersweet feeling of losing a space that we hold dear to us — and we're extremely sad to see it go — but we're glad that our space will be put to better use, and that we can look forward to a brand new location right around the corner on Circular Road. Despite the creaking floorboards, eccentric layout, monster room, polar bear showers, traffic noises and all that jazz... we'll always have Yoga Movement Carpenter Street.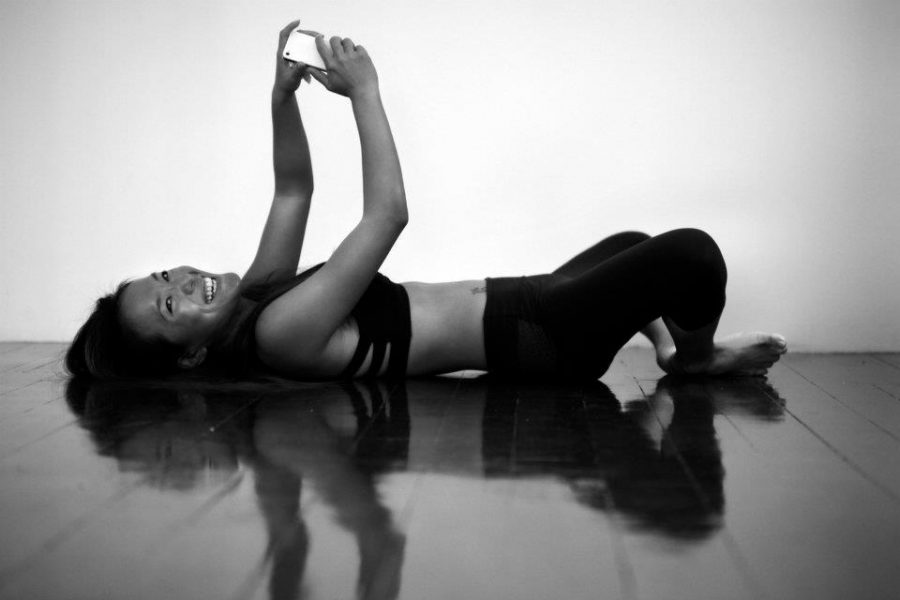 Credits: Nicky Loh
Got a memory of Carpenter Street? Share your stories with us on Instagram using the hashtag #YMFAM!