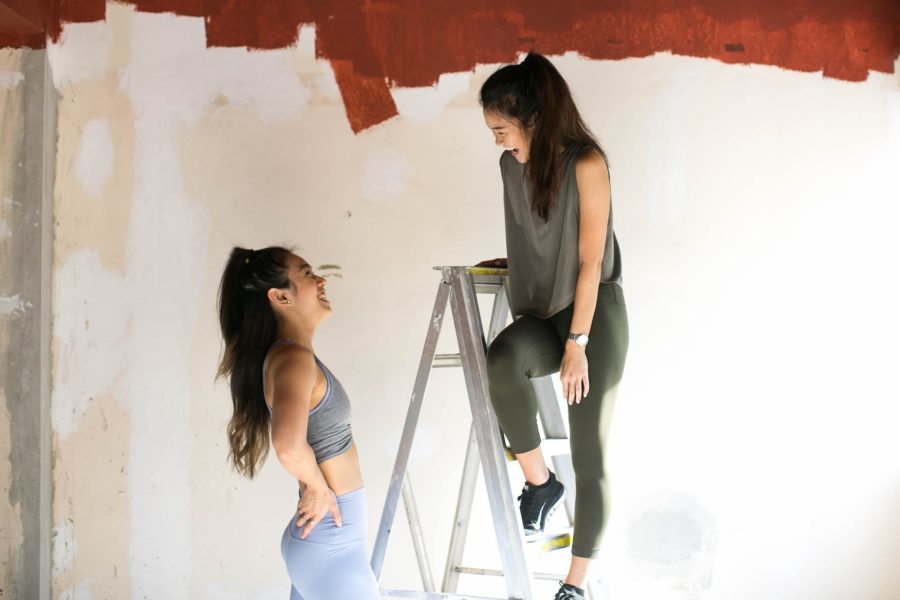 With the opening of our new Circular Road studio, Yoga Movement is bringing you a fresh new schedule across all studios to help you get closer to your workout goals. New class offerings, new class timings, and a reshuffling of classes according to the feedback we gathered from you guys! Here are six fresh changes to expect from your new YM Class Schedule:

New Class Durations
Variety seekers, we heard you loud and clear! On top of our regular 60 minute classes, and 90 minute Monster Hot classes, we're introducing 45 and 75 minute class options for almost all class types! If you're on a tight schedule, or need a quick perk me up at lunchtime, get your sweat on with a shorter session. If you've got the luxury of time, and would like to spend a little longer on your mat, you'll also have the option of enjoying an extended practice to go deeper into your poses. The intensity of the classes remain the same, so an extended practice doesn't equate to a tougher one — we're sticking to our motto of delivering good ol' multi-levelled sessions!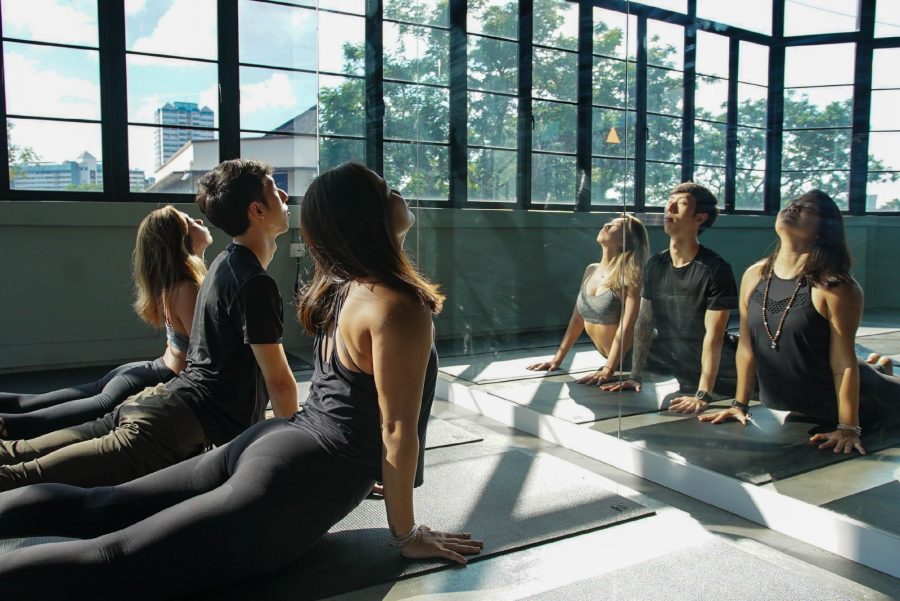 FREE "Intro To Yoga" classes
Newbies, this one's for you. If trying out yoga for the first time sounds scary, fret not! This complimentary 30 minute class will walk you through what you can expect in a YM class. Understand the important alignments and techniques in common yoga postures before you step into an actual class. The best part? You'll get the chance to ask questions during class — no judgement, no pressure. We recommend you sign yourself up for a FREE Intro To Yoga class, then jump into the Basics class that comes right after. Perfect combo!
Even more classes on the schedule
We're adding 22 more classes each week across our six studios — that means that you'll have 363 classes to choose from every single week. Whether you want to sweat buckets or take a chill pill, there's something for every occasion. Hot Power junkies, check this: your favourite class type is making its return after we had our doors beaten down when the class was removed from our schedule last year. In addition, we've noticed that more and more #YMFAM are taking to Zen classes, so we're throwing more of those in for you to R&R. We heard your feedback about morning classes, so we've added 8.30am classes at Orchard 22 on the weekend, and 8.30am classes at Tiong Bahru on weekdays!
6.30am classes 
Want to be more productive throughout the day? Research shows that starting the day early could be your the answer! We'll help you with that wake up call: join the tribe of early birds and jump into 6.30am classes at Circular Road every Tuesday and Thursday!
Farewell printed matter
Last December, we pledged to strengthen our corporate social responsibility. We started off by removing plastic bottles from our studios, and replacing them with carton water. Then, we installed filtered water taps in all studios for the #YMFAM to enjoy free flow water on tap! Following this round of schedule change, we're putting an end to printing class schedules. Find our new and improved schedule on our website, or on the new YM App come April!
Revised Class Pack prices
Over seven years, we've built six studios, added extra classes, installed new facilities, and created a new YM App to make your purchases and bookings a breeze. Our studios keep getting bigger and better, and the YM experience in and out of the studios remain unparalleled. We're always thinking about the next best thing for your experience, so for the first time in seven years, we're tweaking some of our Class Pack prices to be able to constantly serve you better. With effect from May 1, 2019, Class Pack prices will be as follows:
5 Class Pack: $160 (3 month validity)
10 Class Pack: $250 (6 month validity)
20 Class Pack: $390 (9 month validity)
30 Class Pack: $550 (12 month validity)
50 Share Pack: $980 (12 month validity)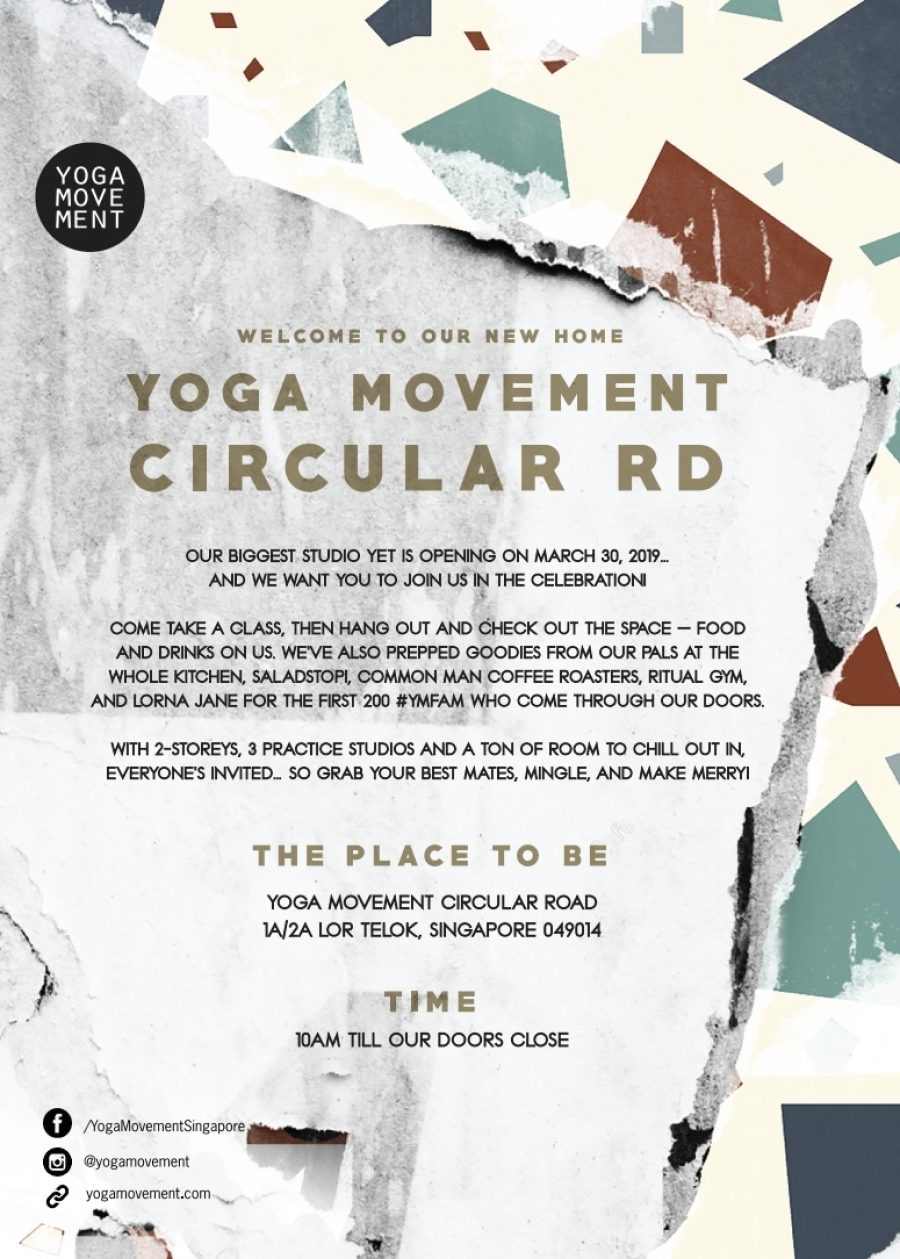 Our spanking new Circular Road studio opens for business on March 27, and so does the start of our new schedule! Bookings for the new schedule will be open on March 20. 
In addition, we'll be having a day-long celebration on March 30 to mark the opening of Yoga Movement Circular Road! If you'd like to join us for some great yoga, grub and goodies by our pals at The Whole Kitchen, SaladStop!, Common Man Coffee Roasters, Ritual Gym, and Lorna Jane, drop by for a class, and stay on to mingle — the first 200 #YMFAM who attend our Circular Road classes will get a goodie bag each. We can't wait to see you there!